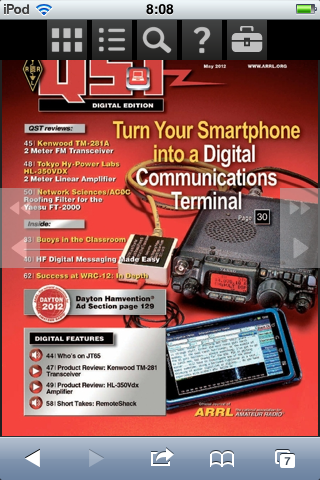 The other day I received, like some unknown number of others, an invitation to try the QST Digital Edition beta for the May 2012 issue.  I am not a hard-core mobile/digital media user.  But, Sarah is a librarian who has specialized in management and procurement of electronic journals and books.  So, she gave me the low-down on what to look for.  And, over the years, I've given her what-for about eBooks because, as I like to say, "I am willing to risk a single print copy of something by taking it places I wouldn't risk taking an electronic reader."  That sums up the perspective I took when reviewing e-QST.
You can read about the Digital Edition on ARRL's FAQ here.  The desktop version requires Flash to use in-browser or Adobe Air and an enormous download to go stand-alone, neither of which really warmed my heart.  But, it does work in the web browser of a mobile device.  I have a 2nd generation iPod Touch running iOS 4 and it worked great in Safari.  I now have a bit of insight as to why people might love their iPads (which I have always viewed as a more-expensive, less-convenient version of the iPod Touch or iPhone).  There appear to be only two levels of zoom: fit page width and zoomed-in.  No matter how good your eyesight, you need to be zoomed in to read because the characters don't render legibly otherwise.  I think iPad's larger screen might make reading it easier.
Browsing page thumbnails was OK, but it's difficult to actually know what you're looking at before you select the page.  It also would be nice if the pages were numbered in thumbnail view.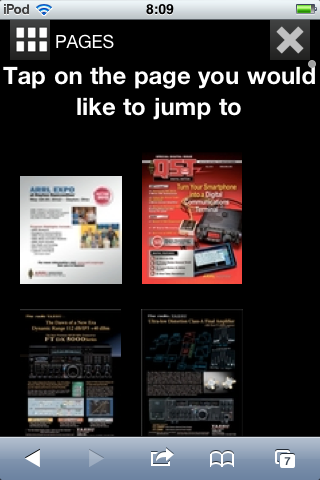 One of the big advantages of the Digital Edition is that you can do things you can't do with the print version, like including audio of JT65.  Granted, I think almost anyone who's active on HF CW or digital knows what JT65 sounds like, but it's a basic demonstration of the kinds of things that will be possible in the new format.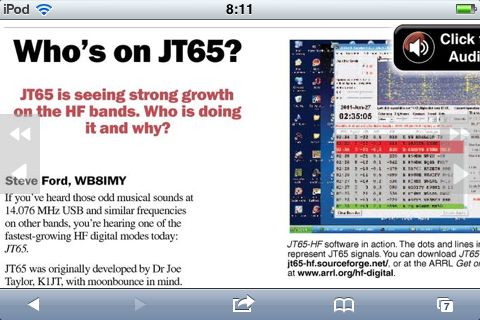 Given that I'm usually done with one month's issue by the time the next one comes out, the Digital Edition is alright for basic browsing and reading.  It's much faster to skim the print issue, at least with my barebones 768 kbps DSL connection and the higher visual bandwidth of print (read Tufte's essay The Cognitive Style of PowerPoint for more on this and other interesting reasons to hate slide decks).  The mobile version also requires you to be connected to the Internet to browse.  It turns out that an entire issue is on the order of 350 MB to download stand-alone on a computer.  This makes it difficult to take places where I often want to read QST (on airplanes, for instance)…  It is possible to print from the desktop version (I tried it using 32-bit Windows XP and Firefox), although it seems to be slower than the mobile version (not entirely unexpected).
Another thing that's a bit different is that if you download the offline content to your desktop, you still need to authenticate to open it.  It's not clear whether this continues if you drop your ARRL membership.  It is a bit different than owning boxes of back issues…even if you drop your membership, you still have the magazines.  I don't think this is a huge concern for most hams, who probably wouldn't be interested in old QSTs if they dropped the membership.
In summary, I like the concept of the Digital Edition, but I wish I could carry off-line issues around on my mobile device.  ARRL hints at this in the FAQ, so I am hopeful.