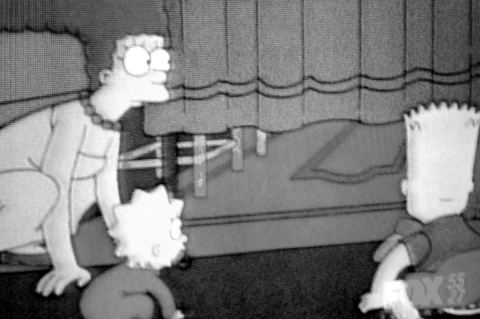 The last iota of intelligence on the local Fox station vaporized. The FCC could easily revoke their license for failing to serve the public interest. When we moved to Champaign-Urbana, the Simpsons were on at 5:00 and 6:00 on weekdays. If I worked later than 5:00, I could always see the 6:00 episode. The 6:00 episode was replaced about two years ago with "Two and a Half Men." That's like replacing your trusty Ford Taurus with a Daewoo, sure it's a little cheaper, but you're still driving a Daewoo.  No, actually worse, because "Two and Half Men" is inane.  I was disappointed; but, I did make sure to catch the 5:00 Simpsons a couple of times a week.
In June, the station discontinued the 5:00 episode of the Simpsons for a second half-hour of "King of the Hill," which also airs at 5:30. Why anyone would want to see an entire hour of "King of the Hill" every day is beyond me. Although, I am grateful that I've seen a few episodes of it because the Simpsons did an awesome "King of the Hill" alley scene. So now, we get an hour of "King of the Hill" followed by an hour of "Two and Half Men." I don't know who their target audience is; but, they have to be getting dumber watching that.  Part of the grand Fox plan of idiocracy, I guess.
On the bright side, I guess that's an hour or two of my week I get back. On the other hand, the Simpsons was somewhat educational in the sense that it packed a lifetime of popular culture and historical event references into a half-hour package I could understand without having to sit through all of those other movies and TV shows.