As I mentioned previously, the receive capability in my 50-MHz transverter seemed to be a little bit anemic.  So, I decided to add a little bit of gain.  Looking at the block diagram for the transverter (shown below in updated form—jumper across the SGA-4586Z to understand what the circuit looked like initially—by the way, full-sized PDF versions of all of my notes and schematics will eventually be available here), I reasoned that I had the following losses and gains:  +10 dB for the LNA (this might be as much as +15 dB, but 10 seems more realistic, if not generous), -3 dB for the bandpass filter, -7 dB for the mixer conversion loss, and -3 dB in the diplexer, leaving me with -3 dB overall conversion gain.
So, I endeavored to find some more gain in the form of a MMIC (which is really what all gain blocks in this transverter would be if I were to do it again).  I have a nice (but dwindling) supply of SGA-4586Z's that produce about 20 dB gain with a 1-dB compression point around 16 dBm, which is probably a good part for this location.  The idea is to overcome the losses in following stages with robust gain in earlier stages (in order to keep system NF low).  So, I ripped out the existing two-pole BPF and replaced it with this:
I was relatively satisfied that I had everything working with the cover of the transverter off to peak the BPF on the W3APL beacon.  So, I replaced the cover and surprise!  To borrow a poetic description of RF circuit doom from N3UM, the MMIC "amplifier burst into song."  Bursting into song is a bit of a charitable description for something that sounded more  like S9 power line noise in the IF receiver.  I did not actually know that it was the MMIC oscillating at first, but I started wiggling cables and finally found that if I touched the 12RX (+13.8 volts on RX) line, the problem disappeared.  So, I added the 0.01-uF bypass capacitor to ground on the supply side of 180-ohm bias resistor and the problem was solved.
With the completion of the HF SoftRock with Si570 LO, I now have a tunable IF to play with the transverter.  We had a nice opening to the Southeast and Gulf this morning and I even heard my first DX with the transverter and SoftRock combination—CO2WF.  With the appropriate software, I can configure a the SoftRock as a panadapter with the TS-930S as the transmitter.  More on this in the future.  Best of friends: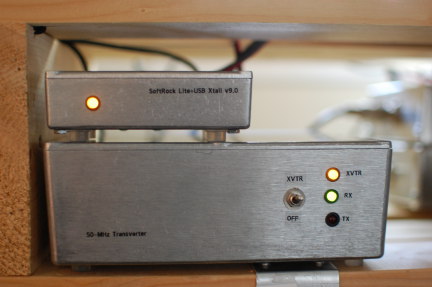 The real next step in making the transverter useful is building a 20-watt PA stage.  This should be good for driving a Mirage or TE Systems brick or even something bigger like a 3CX800 or 50-volt solid-state amp…