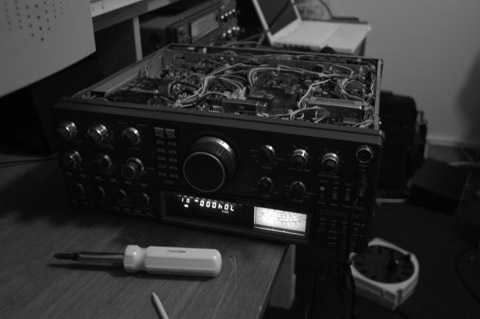 As I lamented in the last post, I am surrounded by ailing gadgets in need of repair.  Last weekend, I tackled two of them.  The first was the airplane.  A gust of wind had destabilized the plane sending it crashing to the ground.  The front set of pegs where rubber bands attach the wing were sheared-off.  A trip to a craft store with Sarah yielded an "1/8-inch" dowel and a sack of miniature thread spools.  I reamed-out two of the spools and press-fit them to the dowel for a slick replacement (sorry, no photo).  I have not flown the plane again, yet.  However, the weather has changed favorably.  So, that should happen any day now.
My older TS-930S developed a PLL unlock error over time.  The error occurred when I changed bands or modes.  Fortunately, several months ago, the topic had been discussed on the TS-930/TS-940 reflector, although I was just getting around to thinking about it.  Clif Holland, KA5IPF, who has repaired Kenwood radios for many years, suggested that a common culprit is the 36.1-MHz heterodyne oscillator in the signal unit and prescribed a simple adjustment of L77.  It took a little while to adjust it to my satisfaction.  Indeed, I wasn't even sure I'd made any improvement at all at first.  However, once the radio warms up, band and mode changes are seamless again!  This sure helped out for fast QSYs in the Michigan QSO Party.
On the topic of TS-930's, I'm still having woes on SSB with the other radio.  I swiped (and promptly returned) a microphone from the TS-850S at W9YH to ensure that the problem wasn't my Pro-Set.  It has to be something between the mic jack and the signal unit.  But, the mic jack is a real pain to get to.  Someday.