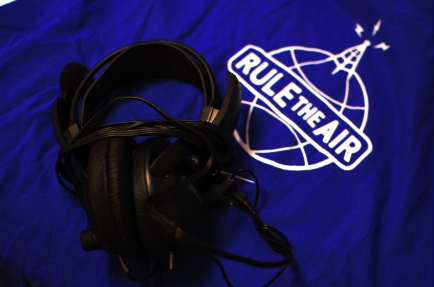 I rolled over another year on the odometer of life last week and as is the custom around here, I received some gifts, several of which were radio-related.  The shirt is from my wife.  The Yamaha CM500 headset is from my parents.
Both of these came in good time since my "CW is the Real Thing" shirt is getting threadbare and my ProSet developed a bad spot in the cable in the past week.  I got to try them both out for a brief period at the W8AV multi-two operation in the CQ WW contest over the weekend.
The CM500 (the manufacturer page for these is gone, but you can get them from the usual places) came as highly recommended by the denizens of the Elecraft reflector via the PVRC reflector.  They're pretty good headphones.  The sound is good and they have plenty of volume when driven by a TS-930.  The ear pads are a little thicker than those on the ProSet, which is good because after a few hours, my ears feel pinched by it.  The big downfall of the CM500 is that it feels a little bit like my head is in a vise when I wear them.  There may be an adjustment for that.
I was originally thinking that I should send the ProSet back to Heil to be refurbished.  But, the price is much higher than I remembered.  Fortunately, they stock parts for the old models.  So, I will be doing the refurbishing myself.
In WW news, I only operated for about two hours on Sunday afternoon at W8AV.  Goose replaced his big tower with a new one and the lower 40-meter antenna was not back up yet.  But, with a single 2-element Yagi at 140ish-feet and 1.5 kW from a homebrew 8877, I easily carved out a spot around 7064 kHz at 2000 UT and ran off a nice string of Europeans just as the band was opening.